Home
»
antiques
,
collecting
,
events
,
heritage structure
,
hobby
,
impressions
,
nostalgia
,
paper notes/money
,
people
,
personalities
,
places
,
postcards
,
pre-war
,
scenes
,
stamps
,
thoughts
,
travel
,
vintage photos
» Queen Isabella II in the Philippines
Queen Isabella II in the Philippines
What does a foreign monarch, Queen Isabella II of Spain have in common with some of our heroes like Jose Rizal, Andres Bonifacio, Apolinario Mabini ?  Well, they all have monuments built in their honor, have been featured in our coinage and paper money (bank notes) and in our postage  stamps. Add to that, places have been named after them in the Philippines.
Bank of the Philippine Islands (BPI), the country's oldest bank founded in 1851, was established by a royal decree during her reign. The first name of BPI was Banco Español Filipino de Isabel II. The first bank notes was issued through this bank and was known as pesos fuertes (strong) and had a portrait of the Spanish Queen.
Having at one point collected stamps and coins, I came across my stamp stock book which contained some early Philippine stamps. The postage stamp was invented in England in 1840 to pre-pay mail or letters sent. Its usage spread to other countries and territories. In 1853 a royal decree was issued by Queen Isabella II and it was carried out during the term of Governor General Antonio Urbiztondo for the pre-payment of correspondences in the islands and hence the issuance of the first postage stamp in the country.  The stamp showed the profile of Queen Isabella II and although there was already a postal system in the islands prior to 1854, February 1, 1854  is considered as the official date when the Philippines issued its first  postage stamps.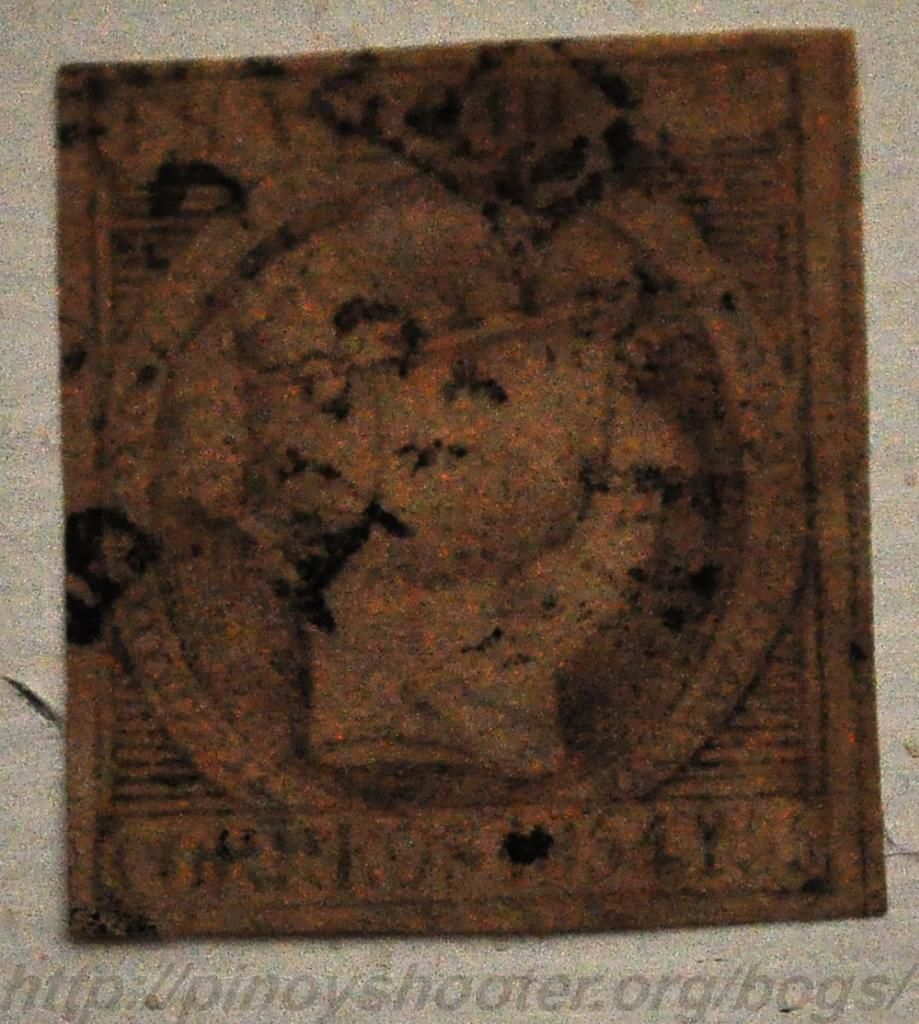 The first postage stamps issued were intended for domestic use in the islands and  bore the crudely drawn profile of Queen Isabella II. The stamp  was patterned after  the Spanish stamp issue of 1853. The country's first postage stamp bore the date of 1854 y 1855. It was hand  engraved by an unnamed Spanish officer and it was printed by Plana, Jorba y Cia in Binondo, Manila. Compared to its Spanish (peninsula) counterpart, the local version had the unflattering portrait of the queen. There's a story that when this local stamp reached the Queen's attention, she was so displeased with the way her image was engraved, that she forbid its use on mails going to Spain.
The effect of what was mentioned above, was that there was a royal decree instructing that postage stamps to be used for Spain and other countries should be printed in Spain and the former one, can still be used domestically or for interior mails. In order to provide uniformity in quality and aesthetics, stamps were printed in Spain but those that were printed in the islands were done by M. Perez y Hijo in Manila.

Postage stamps with the Queen's profile lasted until 1868, which was  the year she was deposed. The remaining  stamps that has her image was overprinted with HABILATADO POR LA NACION (rehabilitated/made valid by the nation) most likely made to reflect the change of regime  and of the  monarch.
Next are the coins, for what monarch will not have his or her imprint on the country's coinage, moreover if it was an empire. As mentioned above, after the Queen was deposed, stamps bearing her image were overprinted. The coins that first appeared to bear her mark are called countermark or counterstamp coins showing her initials YII with a crown on top. This was done since the coins in the country during this time came from Latin America (coins from this part of the world was still widely accepted for commerce) such as Mexico, Peru etc. But with these former Spanish colonies revolt and independence from the mother country, they begun minting their own coinage. Since trade were still conducted between Latin America and the Philippines which was still a colony, the "insurgent" coins were still accepted and circulated. The solution was to have them countermarked or counterstamped (some use the term interchangeably although there's a relatively minor difference between the 2 terminologies.)  This was to "stamped" out what the authorities deemed as subversive features of the coin or  marked it to signify the approval of the authorities that the coin is fit for circulation.  Although it was in 1828 that the decree on these now foreign coins were made to have these "rehabilitated"  for use in the Philippines.  But it was in October of 1832 that another  decree was made to make a simpler and smaller countermark/counterstamp with the initials of F.7 ° for King Ferdinand VII and after his death, the initials that were stamped was Y.II. for Queen Isabella II, his daughter and successor.
This practice of counterstamping was stopped in March of 1837 after Spain recognized the independence of its former Latin American colonies.
A series of coins were minted bearing the bust of Queen Isabella II  in various denominations and containing the  precious metals of silver and gold. The denominations were 10, 20 and 50 centavos. The 1, 2 and 4 pesos were minted in  gold.
Interestingly, the last dates on these coins were 1868 but on some of the denominations were minted beyond this date and  as late as 1874, but all of these coins were still dated 1868.
And  that is how the Spanish Queen, who has never set foot  in these islands, has had a very strong influence on our history and images of her as well as her memory are still with us today.

———————————————————————————————————————————————————————-
Notes:
Thanks to Mr. Nigel Gooding (a very helpful Philippine stamp collector) and his website which is very well researched, informative and helpful. For those interested in Philippine stamps, most specially during the colonial period or those who wanted to know about this subject: http://www.nigelgooding.co.uk/
Another link about Philippine philatelic which is also quite extensive as well as assembled and  put up with great passion is the website of the late Abe Luspo: http://www.philippinephilatelist.net/
Thanks to Mr. Eldrich Yap for his numismatic expertise and for sharing some of his precious coins in his collection.
Books on the subject for those curious or interested:
COINS OF THE WORLD SPECIAL PRINTING -SPAIN SPANISH AMERICAN MINTS FILIPINAS – Published by Wayte Raymond, Inc. New York 1956
COINS, MEDALS and TOKENS of the PHILIPPINES – Aldo P. Basso Chenby Publishers 1968
A BRIEF HISTORY OF PHILIPPINE POSTAGE – for the Philatelic Exhibit (April 17-April 28, 2001) to commemorate BPI's 150th Anniversary. Published by Bank of the Philippine Islands 2001