Home
»
antiques
,
bahay-na-bato
,
church
,
collecting
,
events
,
heritage structure
,
heritage towns
,
hobby
,
impressions
,
nostalgia
,
people
,
personalities
,
Philippine house
,
places
,
pre-war
,
scenes
,
thoughts
,
travel
,
vintage photos
» Galleria Taal – A Camera Museum in Taal, Batangas
Galleria Taal – A Camera Museum in Taal, Batangas
Taal is best known for the volcano, its lake and also for its heritage town. One of the very few surviving towns that have its historic core intact in terms of heritage structures. It has a chockablock of pre-war houses and a well laid out town plan. In addition, it is relatively close to Metro Manila. For day trippers, Taal's location and accessibility makes it a favorable destination.
An added attraction is the church of St. Martin of Tours considered the largest in the country and as an added feature, its interiors was recently beautifully and tastefully repainted. And in the last decade or so, a revival of the town with adaptive re-use being practiced for some of the ancestral houses. Some of them have been turned into hotels (so one now can stay overnight) and one is a gallery and coffee shop owned by the artist Ramon Orlina.
And then there is Galleria Taal a camera museum, featuring Mr. Manny Inumerable's impressive camera collection. A unique and out of the box museum, possibly the only kind in the country. Galleria Taal is not only located in the heritage town of Taal but it is also located in an ancestral house owned by the family of Mr. Inumerable on his mother's side, being the Ilagan (Ylagan)-Barrion ancestral house.
The house was said to have been possibly built sometime in 1870 and it was the house of Domingo Ylagan and Maria Martinez wherein within the history of the house  there is a sad and tragic story. The couple was murdered in this house back in 1903. They were shot by one of their tenants (tenant from their farm land) and  the children escaped this misfortune by being in Manila.
The house itself is historic in that it used to be the home of Candida Ylagan  who was married to Antonino Barrion a lawyer and one of the delegates from Batangas province to the 1935 Constitutional Convention.

Interestingly too, the house seems to be divided in 2 parts. The dining and kitchen area are connected to the main house by a narrow corridor which looks like an enclosed bridge.  The roof of the back portion of the house is still covered in clay tiles.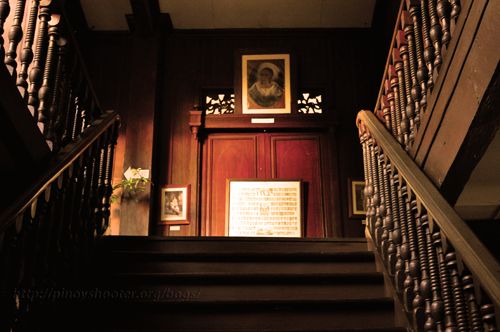 When Mr. Inumerable's  grandmother died in 1975 the house was rented out. The house degenerated through the years after this and portions of it was even extended by the former tenants, making the once stately house only a shadow of its former self. Until it was rescued in 2004  by Manny and his brother Bobby Inumerable who were the grandchildren of the Barrion couple mentioned previously.  A feeling of sadness at the current state of their ancestral house prompted Mr. Manny Inumerable to have it restored with work being done from 2004 to 2005. It was not until 2010 that the house was considered to be a venue to showcase the impressive camera collection and as such  turned into a camera museum as well as an exhibit for vintage Philippine photos.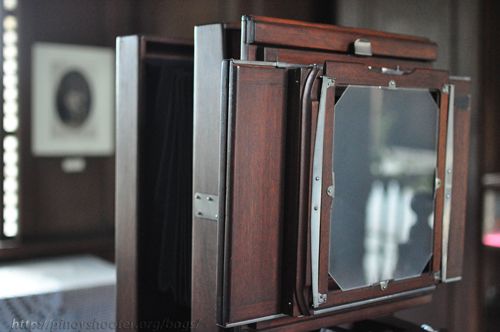 Last November 2012, the Heritage Conservation Summit was held in Batangas City and one of the featured examples of restoration and adaptive re-use was the story of Galleria Taal.

The walls are  lined with early Philippine photos, among them is a photo of Jose Rizal's execution which has  a very interesting story.  Several family photos line the walls too, as well as some interesting pieces related to Batangas history. And if Mr. Inumerable is present, there is also an interesting lecture on how the early photographs were taken and how some of the vintage camera works. First time I heard of head holders for portraits since exposures took some time, like a few minutes. And this also explains why on some vintage Philippine photos, there seems to be a few people around since as mentioned, it takes a few minutes to expose a photo. Thus blurring or making some of the people invisible in the images.
Photographers, enthusiasts and hobbyist will have a field day visiting Galleria Taal. It shows and features on how the camera has evolve. The exhibit is arranged in a linear or chronological fashion. It also includes several brands and models of cameras. From the rarely seen and expensive  Hasselblad to the dream team (for some, including myself) of several Leica cameras on display and even a gold plated Nikon SLR camera.

There is also the option of having lunch serve at Galleria Taal. Arrangements should be made in advance. A personal favorite is the adobo sa dilaw.
A good example of a person's hobby and passion being generously shared with the public and something new being learned and appreciated. It helps in bringing "pride of place" to one's hometown (to borrow a phrase from Arch. Augusto Villalon.) And how by this example, heritage can be preserved and promoted. Quite a great example of adaptive re-use and out of the box thinking.
———————————————————————————————————————————————————————-
 A note, being February which is one of the bloodiest month in Philippine history during the end of Japanese Occupation, reportedly 70  members of the Barrion family were massacred by Japanese soldiers in a ravine where they were hiding in San Nicolas, Batangas. San Nicolas used to be a part of Taal before becoming a town.
——————————————————————————————————————————————————————
feature and interviews:
http://www.youtube.com/watch?v=1lRq5OXiLKk
https://traveleronfoot.wordpress.com/tag/galleria-taal/